Pocket Tour

Seattle's only designated "National Treasure" is not the Space Needle, Starbucks or Russell Wilson. It's the six-story Panama Hotel many Seattle residents know little — if anything — about. Pocket Tour aims to change that.
Introduction

The first Asians to settle in Seattle were Chinese laborers in the late 18th century. By the mid 19th century, it was not uncommon to see working men wearing Levi's denim workwear that transitioned into today's blue jeans. Combining old and new, we're sharing POC stories through the device in your jeans.
Solution

An augmented reality phone application designed and developed for visitors of Seattle's International District to tour historic landmarks and cultural gems that often go unnoticed. This living museum gives voice to East Asian communities who cultivated this space over generations.
Research

After visiting International District to curate tour stops and interview businesses, we identified our target audience to be visitors of the local Wing Luke Museum as an extension of their experience. Due to road safety concerns, we narrowed our audience to ages 13 and up.
Problem

In a time where anti-Asian hate is still prevalent, there is a lack of knowledge of how deeply Asian-American history is woven into the city. The Wing Luke Museum is positioned as an excellent educational resource yet there has been a 23% decrease in museum visitors between the ages of 18 to 24 yet this demographic visited science museums at an 11% rate increase. As a team, we speculated the following pain points to explain this:

1. low interaction makes the experience boring
2. tours require an allotted time commitment limiting flexibility
3. lack of variation leaves little to explore in a following visit
Design Requirements

To create an experience that aligned with our goal to educate and entertain, | established the following requirements to guide my design decisions:

1. customize stops based on time and interest
2. interactive artifacts to increase engagement
3. accessible so that tours can be completed without assistance
4. minimal onboarding so users can start tour immediately
Early Concept

Users can either opt for a recommended tour (R) highlighting popular locations or browse through other locations, learn more about them, and select them to be included in their self tour (S).

Once a tour is tailored to their liking, the user will use the map to guide them to their destination. When their arrival is confirmed, they can tour using augmented reality. This portion of the experience would include historical images on overlaid in the real world, for one.
Wireframes

As we added more features – such a social element of leaving reviews and recommendations for future tour-goers, language selection, and wheelchair accessible map settings - I added an onboarding process so users knew they could personalize their tour beyond the "recommended" and "self" tours options.
Assets


Having access to the camera and geolocation allowed me to use AR to direct users to precise stops for an elevated the storyline.
Artboard

I wanted this experience to be simple so it would add to the physical environment rather than distract from it. Creating a default tour allowed users to jump right in with a recommended tour and make informed edits.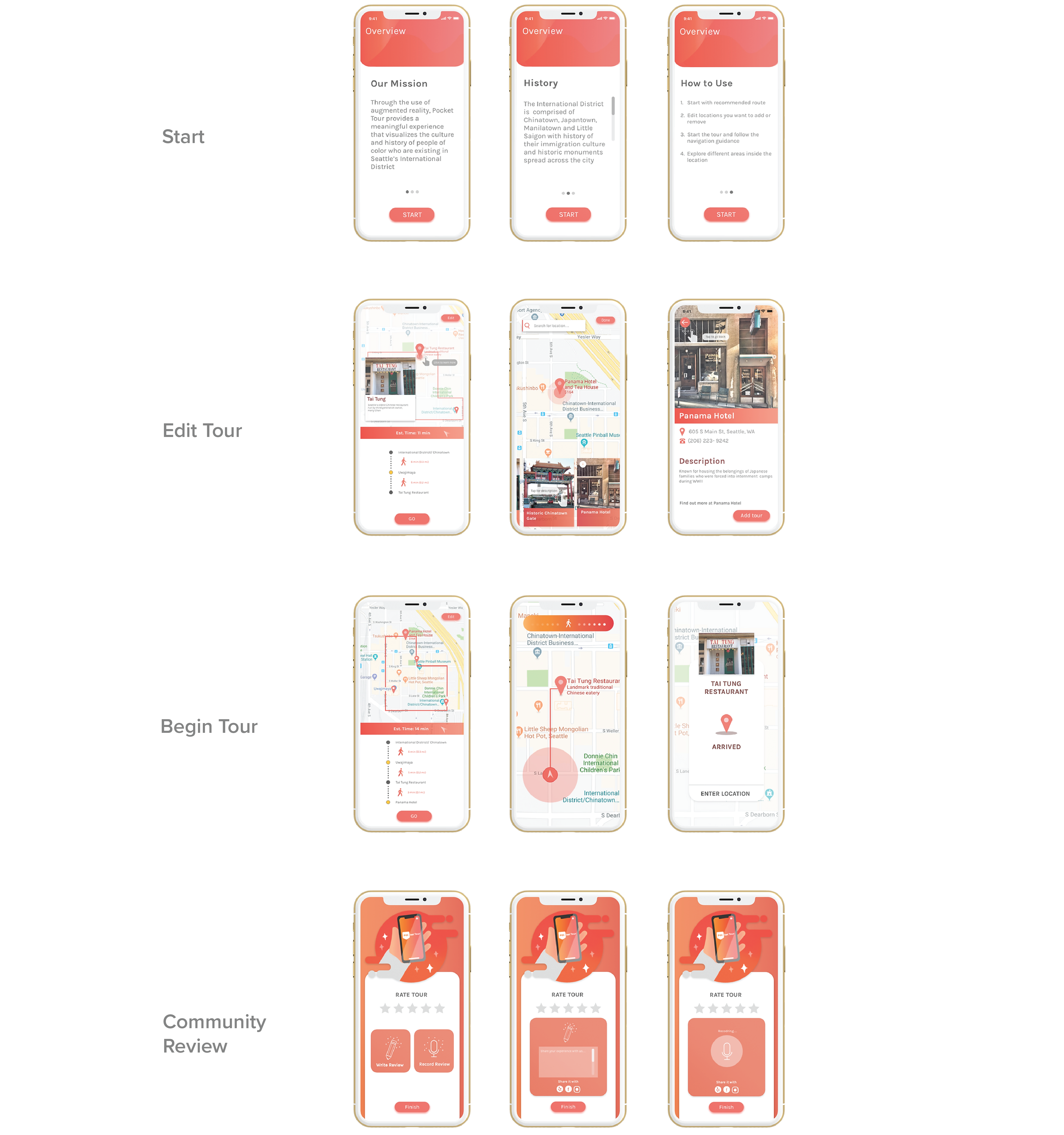 Reflection

The challenge was using the real world as part of my canvas. Outside variables required me to think about Pocket Tour beyond digital interactions as it adds to a physical space. It was almost like designing two experiences: one for looking directly at the device and one for looking through the device at an artifact. After my team member almost walked into the street without looking up to see if cars were approaching, I became acutely aware that my first priority as a designer should be road safety instead of screen appeal. This is particularly important because AR users need to be aware of their surroundings - especially when near streets or around other people.

I also learned that designing for accessibility cannot be an afterthought. If I want a product to be accessible, I need to address that from the get-go so that features are designed with our target population, not for them. I realized this when I considered adding audio for road safety and making wheelchair accessible tours by crafting specific routes for the tour instead of exploring a way to automate it, which I would if I had more time to work on this project.

TLDR: Designers need to consider interactions from multiple perspectives. In AR, one of those angles is how the user interacts with their phone and their environment - sometimes (but not always) at the same time.